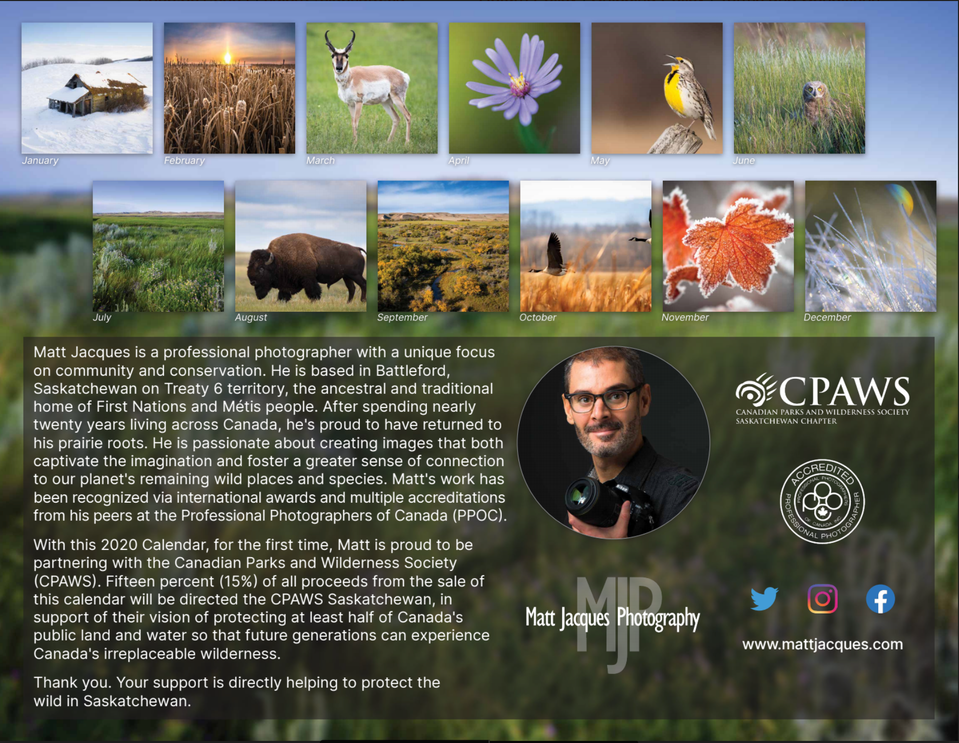 I'm very excited to announce my 2020 Calendar is now available for purchase from my online store.
As much as I love sharing my favourite images with you every year, this year is special. For the first time, I'm collaborating with the Canadian Parks and Wilderness Society (CPAWS), and will be donating 15% of all proceeds toward supporting conservation efforts right here in Saskatchewan.
I recently presented at a conference hosted by the Professional Photographers of Canada in Saskatoon, where my talk was focused on "purpose-oriented photography". The collaboration with CPAWS for this 2020 calendar is a perfect illustration of that concept. For any photographer who is also striving to be a conservationist, capturing a stunning image of a beautiful species or ecosystem doesn't mean much at all if that image doesn't tell a story and reach a particular audience. The 'why' is ultimately more important than the 'wow' that might be sufficient in the context of traditional wildlife or landscape photography.
I've always been clear about my 'why'. I work to capture compelling images, in order to raise awareness that will help protect the remaining wild places and species on this planet. At its core, CPAWS has the same 'why'. Their vision is to protect at least half of our public land and water so that future generations can experience Canada's irreplaceable wilderness.
Here in Saskatchewan, CPAWS is working tirelessly on several fronts. Check out their diverse list of Saskatchewan conservation initiatives. This includes protecting key species like woodland caribou and plains bison, but also helping to support indigenous and research-driven efforts to protect critical habitat like grasslands and the massive Saskatchewan river delta region.
If you're looking for a gift idea for the holidays or want a slice of the Canadian prairies to hang on your wall next year, this calendar presents an opportunity to have an extra impact, as you'll be directly supporting CPAWS' efforts right here in Saskatchewan.
You can CLICK HERE to check out the calendar and grab one for yourself. Thank you!